Properties and Benefits of Melanin: A pigment found in the cells of our body, melanin gives our skin, hair and eyes their specific color. People with fair or light skin have less melanin than those with a darker, more tanned skin color. Melanin is also responsible for the natural color of our hair and eyes. The partial or total lack of melanin resulting in features such as white hair, light blue eyes and an extremely pale skin color is called albinism.
While it is not a debilitating condition, albinism leaves the body unprotected from UV radiation which may lead to serious health problems. For this reason people with darker complexions indicating higher melanin concentrations in the skin are generally considered healthier than fair-skinned people.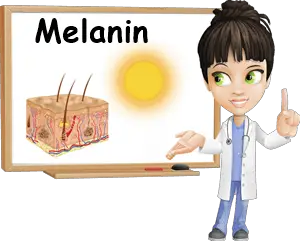 Melanin is a pigment of the skin, eyes and hair resulting from the synthesis of an amino acid called tyrosine. The melanin in our skin comes from special cells located deep in the epidermis, known as melanocytes. When the body is deficient in melanin, albinism occurs. Plants, animals and people can develop this condition. Although it does not pose serious health problems from the beginning, albinism lacks certain protective mechanisms.
For instance, the melanin in our eyes colors the iris in order to make it more opaque and protect against UV radiation and excess light. Albinism means more exposure to light radiations, photosensitivity and retina and optic nerve damage. Also, people suffering from a melanin deficit will also experience poor vision.
Brown and black-eyed people are generally thought to have a sharper vision than blue or green-eyed people. Just as interesting is the fact that, in time, our iris slowly discolours as well. Maybe you have noticed how your parents or grandparents' eye color has gone from light brown to light blue. Yes, it's possible. This indicates not only lower melanin levels, but also a poor diet, lacking vitamin A, beta-carotene, zeaxanthin, lutein, all the nutrients required for a healthy vision.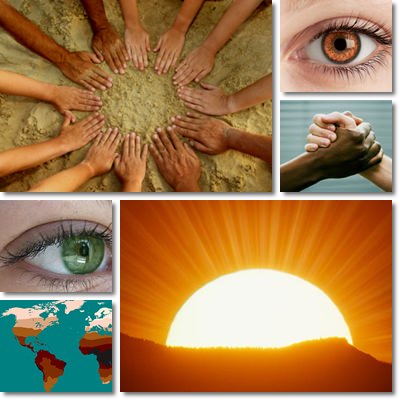 The same thing happens with hair. As we grow older, less melanin is produced at the level of the hair root, causing new hairs to grow white or gray. This process is triggered by the death of the melanocytes (melanin-producing cells) at the base of our hair follicles and is one of the first signs of aging. High levels of melanin help preserve one's natural hair (and eye) pigmentation longer.
Melanin boasts other incredible health benefits as well. For example, the melanin in our skin acts like a barrier against radiation coming from the sun. It is so efficient that it successfully repels 99.9% of radiation. When there is a total or even partial deficit of the pigment, the skin is more susceptible to developing sunburns and more serious skin damage.
For example, people with darker skin tones can generally tolerate more hours of sun exposure than fair-skinned people. If red-haired, fair-skinned, green-eyed individuals were to expose themselves to the sun, without having prior applied sun lotion, their skin would be less tolerant of the heat and radiation and exhibit mild to severe skin damage symptoms, including redness, sunburns or blisters.
Sun (over)exposure and poor melanin pigmentation have been linked to higher risks of skin cancer. If you are light-skinned, remember to always use sunscreen. The lighter the skin, the higher the UV protection factor it requires. The best sunscreen lotions are broad-spectrum ones, meaning they offer protection against both UVB and UVA. Some studies suggest that UVA are responsible for malignant melanoma, a common form of skin cancer.
Need to read: some pharmaceutical companies will try to take advantage of people by promoting incredible melanin supplements. These do not exist because the pigment is produced by cells in our skin, which we cannot simply bottle and sell. However, you can boost your melanin levels naturally by consuming more beta-carotene-rich foods such as carrots, sweet potatoes or pumpkins. Drink plenty of water, eat a lot of fruits and take your vitamins.
If you have a darker complexion, you might not get enough vitamin D from sun exposure during autumn and winter months so make sure you monitor your intake carefully. In addition to this, antioxidants such as vitamins C, A and E can prevent skin damage due to free radicals exposure. In conclusion, the darker your skin, the better. If you are fair-skinned, you just have to be more careful when roasting under the sun.