Wild garlic is a healthy spring vegetable in season March through June. The leafy green is a source of good nutrition and one of the best foods to eat right now. But how do you eat wild garlic? The seasonal culinary vegetable is both easy to incorporate into delicious recipes, and flavorful, great to give a delicious twist to some of your favorite recipes. Discover 13 savory wild garlic recipes to try right now.
How do you eat wild garlic?
You can eat wild garlic both fresh, or raw, and cooked. What part of wild garlic can you eat? You can eat the whole plant, including the leaves, leafstalks, bulbs and flowers. However, the leaves are most commonly eaten. You can incorporate them in any recipe that could do with an aromatic, garlicky leafy green.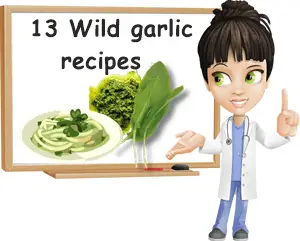 Recipe 1: Spring salad with wild garlic leaves
Clean wild garlic leaves and tap dry with a paper towel. Chop according to preference and mix in a bowl together with red onion rings, red or yellow cherry tomato halves, thin slices of pink radishes, and season with salt, pepper and extravirgin olive oil to taste. Optionally: add arugula, toasted nuts (almonds, pine nuts, walnuts), parmesan shavings, crispy bacon bits or salty, crumbly cubes of feta cheese.
Recipe 2: Wild garlic and canned beans salad
Another simple, savory and healthy wild garlic recipe you can whip up in 15 minutes. In a large bowl mix a handful of wild garlic leaves, chopped, with rinsed and drained beans from a can, either white cannellini or red kidney beans. Add cucumber slices, sliced pink radishes, and parmesan shavings or crumbly feta cheese cubes. Season with salt, pepper and extravirgin olive oil to taste.
Recipe 3: Seasonal wild garlic salad
In a bowl mix a handful of chopped wild garlic leaves with Florence fennel, Belgian endive or chicory, sweet orange or mandarin segments. Season with salt, lemon juice and extravirgin olive oil. Optional: top with crispy bacon bits, pink radish or apple slices.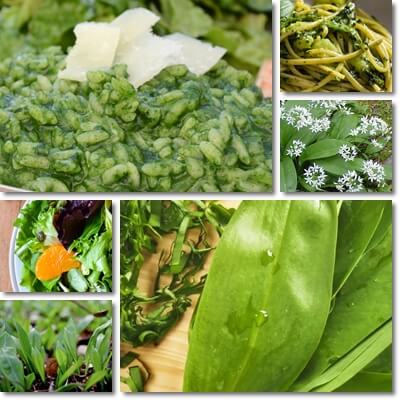 Recipe 4: Wild garlic pesto
This is probably one of the best wild garlic recipes to try. You basically substitute basil leaves with wild garlic leaves to make a savory pesto for pasta. Ingredients include: wild garlic leaves, extravirgin olive oil, salt to taste, toasted pine nuts as per the original recipe, or other nuts or seeds of your choice, and grated Parmigiano Reggiano which is the original Italian Parmesan cheese with PDO, protective designation of origin, certification. Blend everything together into a fine paste using a food processor.
Recipe 5: Wild garlic stir fry side dish
Simple recipes for the win. In a large pan heat up 2-3 tablespoons of oil, add one chopped yellow onion for sweetness or red onion for color and flavor, and fry until the onion is soft and golden. Throw in your wild garlic leaves, whole or chopped, add water and cook until soft. Season with salt and pepper. Use as a healthy leafy greens side dish for meat roast or vegetable dishes.
Recipe 6: Wild garlic risotto with parmesan cheese
This is a simple, but savory recipe that you can make several different ways. In a large pan heat some butter and olive oil, add a finely chopped onion and fry until soft and golden. Throw in a vegetable of your choice, whether it's seasonal mushrooms such as morels or off-season white or brown portobello mushrooms, classic zucchini or butternut squash, and saute.
Add one cup of your choice of rice and three times the same amount of water, vegetable broth, chicken stock or bone broth. Add the water or other liquids gradually to the rice and keep mixing so the resulting risotto doesn't stick, but comes out pleasantly creamy. The rice usually cooks in about 20 minutes which is enough time for the vegetables to cook as well. Season to your liking with salt and pepper and serve hot with grated parmesan cheese on top.
Recipe 7: Wild garlic spring soup
This is what some people would call a detox soup because it uses leafy green vegetables and no meat. In a pot saute one onion, chopped. Add your wild garlic leaves, and any other leafy greens of your choice such as spring seasonal greens (patience dock, spinach, sorrel, nettle) or off season veggies (potatoes, tomatoes, celery root, lentils or beans, zucchini etc.). Add water and boil until cooked. Season with salt, pepper and some fresh extravirgin olive oil at the end. Enjoy with garlic bread or polenta made from corn flour.
Recipe 8: Wild garlic hearty soup
In a large pot saute one large onion, chopped. When golden and soft, add half a cup of tomatoes, fresh or canned, and one cup of pre-soaked or canned lentils or beans. Cook accordingly. After the legumes are cooked, add one or two sausages, chopped, and cook. Season with salt, pepper and herbs of your choice (thyme, parsley, lovage). Optional: add half a cup of rice or pasta for a more substantial dish.
Recipe 9: Wild garlic mashed potatoes
Prepare your mashed potatoes as you normally would. Separately, stir fry one finely chopped onion, then add wild garlic leaves, chopped, and a little water to cook the leaves. Simmer down then mix the garlic leaves with the potato mash. You can also substitute the potatoes for turnip, rutabaga or cauliflower for a healthier dish. Discover 8 healthy substitutes for mashed potatoes.
Recipe 10: Wild garlic cream soup
In a large pot, boil a handful of wild garlic leaves along with around 1 kilogram your choice of vegetables until cooked, but not mushy. Remove the vegetables and puree using a food processor, adding some of the cooking water to reach the desired consistency. Season to your liking (salt, pepper, dry herbs) and serve plainly, with toasted bread on the side, or top with extravirgin olive oil, sour cream, grated cheese or bacon bits.
Variations of the soup: wild garlic and zucchini, peas, zucchini and potatoes, broccoli, peas and broccoli, cauliflower, potato and celery root, potato and parsley root, potato and parsnip, tomatoes.
Recipe 11: Wild garlic vegetarian patties
In a pan stir fry one onion until golden, then add a handful of chopped wild garlic leaves, a little water and cook for a few minutes. In a large bowl, add 1 large chicken egg, or one whole egg and one egg white, half a cup of breadcrumbs or a few slices of days-old bread, crumbled, salt, pepper, sweet, spicy or smoked paprika, fresh parsley, other herbs (e.g. thyme), a couple of tablespoons of olive oil and half a cup of grated parmesan cheese, or another cheese such as cheddar. Mix in the cooked wild garlic leaves and work the patty dough.
Preheat the oven. Oil your hands to form the patties and transfer onto a baking sheet. Place in the oven and cook until golden brown. Halfway into the cooking time, turn the patties on the other side. Serve together with roasted vegetables, mashed potatoes, soup or salad.
Recipe 12: Vegetarian stuffed wild garlic leaves
Choose large wild garlic leaves and blanch. Separately prepare the stuffing. For the savory vegetarian stuffing: half a cup of boiled rice, one finely chopped onion, one small fresh or roasted zucchini, chopped or grated, fresh or roasted tomatoes, canned tomatoes or sun dried tomatoes (your choice), and eggplants (optional). Season with salt, pepper, dried herbs of your choice, and oil.
Spread some of the stuffing onto a blanched wild garlic leaf, bring in the edges and roll. Repeat the process until you've gone through all the leaves. You can freeze any remaining leaves. Spread tomato sauce on the bottom of a pan, gently transfer the rolls (make sure they sit snug in the pot), add water, bay leaves, and some more tomato sauce. Boil until cooked. You can also use patience dock leaves or sorrel leaves, both in season right now.
Recipe 13: Wild garlic spread
You can make a delicious, Italian style wild garlic spread to use on fresh or toasted bread for breakfast, lunch or as a midday snack. Clean and tap dry a few wild garlic leaves, then chop finely. In a large bowl, mix the chopped garlic leaves with ricotta cheese, season with salt, pepper and extravirgin olive oil. Enjoy on bread as is.