Cupuacu butter is a plant-derived butter made from the seeds of the Brazilian cupuacu fruit (Theobroma grandiflorum). It is a cream colored butter with sweet fruity and faint sour notes and a thick consistency. Cupuacu butter is for external use on the skin, hair, lips and nails and is effective for dry skin, chapped lips and dull, damaged hair. The butter is nourishing and has an intensely hydrating and moisturizing action with fast and visible effects on skin and hair appearance. It is a source of important antioxidants and protects skin from sun radiation as a result of its mild sun protection properties.
What is cupuacu butter? Cupuacu butter is a vegetal fat made from the seeds of the cupuacu fruit (Theobroma grandiflorum), a species related to cocoa beans. Cupuacu fruit are brown, oblong-shaped, covered with a fine-looking fuzz that looks like a thin layer of powder cocoa. Which is funny because this is what the fruit pulp tastes like: a prevailing cocoa-chocolate aroma with pineapple, pear, banana, honeydew melon and other sweet or slightly sour flavors. Each fruit has several brown, somewhat flat, large seeds spread in the center of the creamy-white pulp in rows and it's from these seeds that cupuacu butter is made.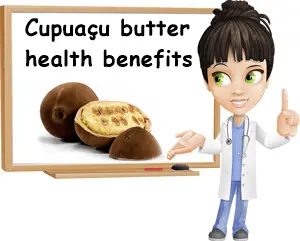 How is cupuacu butter made? Cupuacu butter is made from the seeds of the fruit which are rich in vegetal fats, both unsaturated and saturated. The brown seeds are removed from the pulp with the help of scissors and then cold-pressed to obtain the butter. By cold-pressing, exposure to heat is avoided and all the wonderful properties and beneficial elements in the seeds are preserved in their entirety and unaltered. Also, this means the resulting butter preserves a certain smell that may not appeal to everybody. Cupuacu butter can be refined afterwards, meaning its color and scent are removed. However, the best cupuacu butter to use on your skin and hair is unrefined because it remains as natural as possible.
What does cupuacu butter look and smell like? Unrefined cupuacu butter has a firm, but soft feel to it and a light texture. Because it is obtained through cold-pressing, it is not melted beforehand so it doesn't have that perfectly set look in the jar or container it may be in. Depending on the producer, the unrefined butter may be scooped or shaved to be placed in a container. Also, unrefined cupuacu butter has a yellowish or creamy-white color to it and is scented. The scent is sweet and sour, reminiscent of cocoa, chocolate and a slight sour yogurt scent of some sort.
The refined butter is processed and loses both its color and smell, becoming a whitish, unscented fatty solid. While it retains its soft, light texture and emollient properties, unrefined cupuacu butter is often melted first and then put in a container where it will set in a more compact, uniform solid. Despite having a low melting point (estimated at around 35 degrees Celsius), exposure to heat generally alters the natural properties of the butter. The higher the heat, the more beneficial properties are lost.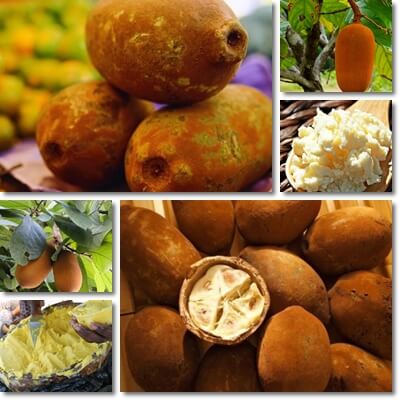 What is cupuacu butter good for?
It is important to remember that despite being a rich source of antioxidants and other beneficial elements, cupuacu butter lends itself to external use only. Its varied antioxidant profile, powerful emollient properties and wonderful hydrating action recommend it for lips, hair and skin care. Here are 7 excellent properties, health benefits and uses of cupuacu butter:
1) Intense moisturizing and hydrating action. There is no better moisturizer than a natural, cold-pressed butter, or oil. Cupuacu butter is a great option for skin and hair care and regular use combats dry skin and hair efficiently, helping retain moisture better. According to research (Advanced Skin Care – A Novel Ingredient), cupuacu butter can absorb up to 440% more water, hence its intense moisturizing action. It is far superior to lanolin, a wax produced from the sweat glands of animals with wool which plays a protective role, shielding the skin and hair from external factors and keeping moisture in. It's also better than shea butter, although both products are wonderful choices for skin care.
2) Restores skin elasticity. The fats in cupuacu butter responsible for its intensive emollient effects are oleic acid (an Omega-9 fatty acid), stearic acid (also found in shea butter and cocoa butter, both intensely hydrating), palmitic acid (gives the butter its soft feel and light texture) and arachidic acid (a saturated fatty acid also found in perilla seed oil and cocoa butter). Using cupuacu butter in your skin care routine contributes to softer, better hydrated skin and restores skin elasticity. Hydrated, moisturized skin looks plump, healthy and more youthful because it hides fine lines and wrinkles better.
3) Source of antioxidants. Cupuacu butter is a great source of potent antioxidants such as quercetin, kaempferol, catechin, epicatechin, theograndins and other flavonoids (New bioactive polyphenols from Theobroma grandiflorum "cupuaçu"). It also contains antioxidant-vitamins, especially generous amounts of vitamin E, a strong emollient. When the butter is used topically on the skin, the antioxidants get absorbed as well and protect the skin against free radical damage, sun radiation, external factors like dry air, wind etc. and reduce damage that takes the form of dry skin, fine lines, spots, blemishes, wrinkles etc.
4) Carries a mild sun protection factor. Antioxidants in cupuacu butter like vitamin E protect the skin from sun radiation and its damaging effects. In other words, the butter exhibits a mild sun protection factor and contributes to skin health as well as exerts an anti-aging action.
5) Nourishing action. The fatty acids, vitamins and antioxidants in cupuacu butter hold a nourishing effect and are nutritious for both skin and hair. This is why applying the butter regularly on the skin and hair improves their appearance, reduces fine lines and prevents damage.
6) Great for dry, chapped lips. Cupuacu butter makes a wonderful natural lip balm. Because of its intense emollient and hydrating properties, it helps moisturize dry lips and repairs damage, protecting against external factors like wind or cold. Small amounts of the unrefined butter can be applied directly on the lips and massaged until absorbed and used both to repair chapped lips and to prevent future damage.
7) Good for dry, damaged, dull hair. Cupuacu butter acts like a natural hair conditioner. It should be applied along the length of the hair and on the scalp, massaged and left to act for at least an hour, after which the hair can be washed. Because of its nourishing action, it fortifies the hair, while the antioxidants in it protect against damage from the sun, external factors, chlorine in water, chemicals in hair products etc. The unrefined butter helps hydrate a dry scalp, calms irritation and gives dull hair shine. Just like any good conditioner, it makes hair smooth, easy to comb and style.
Conclusion
Cupuacu butter is essentially a fat. It has a light, creamy color and dense, but soft consistency. Because of its low melting point, pure, unrefined cupuacu butter is absorbed easily in the skin and doesn't leave a greasy finish. It's good for dry and damaged hair, dry skin, eczema and chapped lips and hydrates and moisturizes intensively. Moreover, cupuacu butter can be used as a natural conditioner for hair and skin and offers a certain level of protection against sun radiation and damage.