Laryngospasm is a rather common medical condition characterized by an involuntary contraction of the vocal cords that causes a brief and partial breathing blockage. While the blockage lasts less than a minute and only prevents breathing in (not breathing out), the fact that it catches people by surprise may result in panic. This is especially true for small children as well as first time sufferers. Laryngospasm is often accompanied by symptoms such as stridor (a high-pitched sound during inspiration), difficulty breathing in or air hunger.
Retractions of the chest wall due to reduced air pressure inside the chest as a result of the breathing blockage as well as fear, anxiety and panic attacks due to experiencing a feeling of imminent death are common symptoms. Some people may experience watery eyes and sudden and excessive sweating. Laryngospasms can occur both in children and adults, both during the day and during the night. In the latter case, they are often triggered by acid reflux and will most likely cause sufferers to wake up from their sleep. When it comes to children, laryngospasm represents a potentially serious medical condition that needs to be addressed by a medical professional immediately. Children are much more susceptible to oxygen deprivation and lack the control needed to manage the breathing blockage.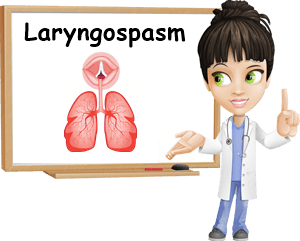 Types of laryngospasm
The condition can be classified as minor laryngospasm and illness-induced laryngospasm. The former occurs and resolves by itself and sufferers are advised to keep calm and breathe slowly until the attack passes. Drinking water can also help clear allergens. The latter can be a result of illness affecting the airways, acid reflux, allergy, hypocalcemia (low blood calcium levels), anesthesia or various medical procedures acting on the vocal folds. In this case, sufferers need to address the cause of their laryngospasm attack such as taking acid reflux medication or keeping away from potential irritants or allergens.
What causes laryngospasms?
Laryngospasms occurring especially at night are often caused by gastroesophageal reflux or acid reflux, which can be symptomatic or asymptomatic (learn more about acid reflux symptoms). If your healthcare provider suspects acid reflux is the cause, he or she can prescribe you special medication called antacids to treat the underlying condition. However, some antacids (especially the tablets that disintegrate or the powder antacids) can encourage a laryngospasm episode themselves. This is possible because when they disintegrate in the mouth, they may leave grainy particles stuck to the throat. These particles may dry out the mucous membrane and lead to an episode.
If acid reflux is responsible for your laryngospasms and the tablet or powder antacids dry out your throat, talk to your doctor about a better alternative for you. Drinking a bit of room temperature water after taking the antacid can help wash down any particles potentially stuck to your throat lining. Also, when dealing with a midnight laryngospasm episode, remember to keep calm, breathe slowly and drink water at regular intervals. It is important that the water be at room temperature.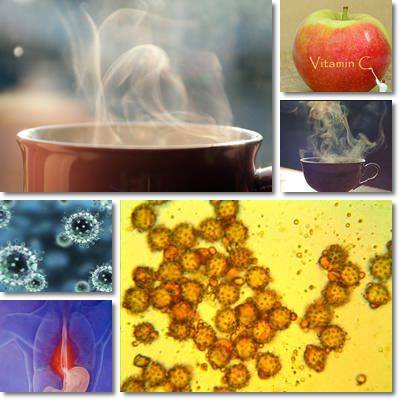 Low humidity in your home means the air might be too dry and this may trigger laryngospasms. A good night's sleep requires air moisture to be between 40% and 50%. While setting pots of water on radiators or stoves or leaving damp clothes to dry in the room might create a little bit more humidity, you can achieve more by purchasing a good humidifier.
The use of indoor heating during winter in particular can make air humidity drop as low as 10%, in which case you will need a good humidifier to help prevent the lining of your throat (and nose) from drying and causing laryngospasms. Also, as a general rule, it might be best to avoid sitting or sleeping next to a radiator, convector or other heating device that might also blow warm air because it can dry out your throat faster and encourage an episode (I speak from experience).
Every time our throat lining becomes dry and sore, we are at risk for laryngospasms. Contracting the flu or a common cold or any other respiratory disease for that matter will most likely cause a sore throat, while air pollutants, irritant substances, pollen, allergens, cigarette smoke or swallowing salty sea water will cause your throat lining to dry out. Practicing good hygiene, avoiding going out on hot and dry, windy days and staying away from irritants can significantly help reduce laryngospasm frequency.
Laryngospasms: tips and advice
While keeping yourself away from irritants, allergens, cigarette smoke, maintaining good humidity levels in your home and avoiding outdoor activities on dry, windy days can be great ways of reducing the risk for laryngospasm, it is just as important to know how to act when you feel your airways are closing and you cannot breathe properly. Find out below 7 great useful tricks and remedies for dealing with laryngospasms:
Keep calm and breathe slowly
Keeping as calm as possible when having a laryngospasm not only helps you better assess the situation and see if you should seek medical help or not, but also allows you to preserve your energy, sanity and control over your breathing. Panicking can increase your oxygen need and, since you are already not getting enough air, it might just make things worse. Remember to avoid talking, unnecessary movements or physical effort.
Slowly sipping on room-temperature water when having a laryngospasm is extremely important. More often than not, laryngospasms are triggered by allergens or irritants acting directly on the throat lining. Water helps render such substances inactive which can stop the spasm almost immediately. For me, naturally sparkling water is sometimes more effective than still water because of its bubbles which seem to help my airways open quicker. Moreover, I feel that sparkling water is better and more efficient at inactivating allergens or washing down bothersome substances.
Make sure you have a glass or bottle of water within arm's reach at all times or carry a small 500 ml water bottle with you all the time, especially when doing outdoor activities. Also, make sure the water is at room temperate so you don't stress your vocal cords even more.
In the event of a severe crisis, get some water and go straight to the bathroom. Turn the hot water on in the shower, sink, etc. and let it fill the bathroom with hot steam. The entire bathroom should fill with steam in less than a minute. Not only will the hot steam increase air humidity to a maximum, allowing you to breathe better, but it will also help inactivate allergens and irritants from your hair, throat, nose and clothes. Sip water slowly and try to relax and breathe the steam into your lungs. After the crisis has passed, remember to change your clothes (which may also contain allergens) and keep well hydrated.
Pay attention to colds and flu
Laryngospasms may occur with greater frequency when you cough or when your throat is full of phlegm due to a cold, for example. Practicing good hygiene and staying away from crowded places in flu season can make a great difference when it comes to preventing laryngospasm.
Treat your gastric reflux
Seen that acid reflux is a major trigger for laryngospasm, make sure you treat the condition properly by taking antacid medication prescribed by your doctor. Also, remember to never lie in bed as soon as you've eaten (digest first, then sleep) and learn to avoid the foods and beverages that may irritate your throat and stomach lining such as spicy foods or foods that you might find particularly hard to digest, such as bell peppers or garlic, coffee, sodas and others (find out more about what foods to eat and to avoid for acid reflux).
Drinking a not-too-hot cup of tea every now and then can have a beneficial effect on your vocal cords, helping them relax and reducing laryngospasm reoccurrence. Herbal infusions made from rose hip, chamomile, echinacea, lavender or Rooibos, for example, help relax your throat, hydrate throat lining and reduce inflammation that may contribute to worsening the condition.
I speak from experience when I say that taking vitamin C supplements daily can improve your health considerably, especially when it comes to laryngospasm, asthma or allergies and frequent and severe respiratory infections. If you feel your throat and vocal cords are irritated or inflamed due to exposure to allergens, cigarette or any kind of smoke, irritants and so on, pour yourself some water and take an effervescent vitamin C tablet of 1000 mg.
The water will help inactivate allergens, while vitamin C will act as a potent local anti-inflammatory that can potentially prevent a laryngospasm episode. I take vitamin C every day because it also helps me control my allergies. But know that supplementation needs to be continued to enjoy quantifiable benefits.
Conclusion
While it is a serious medical condition, laryngospasm can not only be kept under control, but also successfully prevented, should you learn to avoid the causes triggering it. Remember to remain calm, breathe slowly, avoid talking, turn on your hot water faucet in the shower and let steam fill the bathroom and drink room-temperature water in sips. Should you feel, at any point, overwhelmed, seek medical attention immediately.