Hello everybody and welcome to natureword.com! Today, July 2nd, 2014, we celebrate the birth of natureword.com, a new and exciting health and wellness blog that promises to become a trustworthy resource of quality information. Natureword is dedicated to all things health and wellness-related and focuses on revealing the properties and health benefits of food items people from across the globe enjoy. Whether it's pomegranate or figs, goat cheese or walnuts, cashews or flaxseeds, green tea or peppermint, coffee or chocolate, turmeric or basil, we're here to tell you just how a food item you may enjoy on a daily basis affects your health status and general well-being.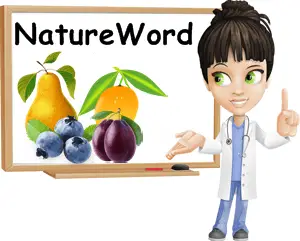 Macronutrients, calories, antioxidants, dietary fiber, vitamins and dietary minerals are all relevant components of food and things to take into account when looking to eat and keep healthy. Daily requirements, side effects, warnings, medicine interactions and health benefits are aspects as significant to your well-being as eating itself and can make a great difference in your health status and quality of life. On natureword.com you will learn what to eat in order to boost your energy levels, what foods to avoid when dealing with a certain medical issue; you will read up on the newest health-related breakthroughs, discover fruits and vegetables from across the world, find out ways to improve your health, look more youthful, sleep better, focus more, better understand healthy eating, nutrient functions and nutrient requirements as well as improve your mood and learn about all those healthy eating options that are out there for you.
There will be pictures, explanations and information based on solid scientific research, all of which aim to guide you towards a better, healthier life and inform you of all the healthy eating options available to you. The user-friendly experience and flawless technical support is offered by Marius Lixandru, while the data and truth-abiding information is collected and presented in an intelligible manner and simple format by Ana Visanu. We are not medical professionals and do not aim to offer or substitute medical advice. We are two people driven by our passion for healthy eating and motivated by our love for nature and simple living. Get to know us on our Info Page.
Good health is the basis for a good life and knowing which foods are good for you and which you are better off avoiding is pivotal for living and feeling better. Even the humble potato, the constantly overlooked cabbage, the beautifully-scented peppermint and the pungent onions and leeks hide secrets that could turn one's health around. And natureword is here to expose the truth about food so that you are better equipped to make the right dietary and lifestyle choices for you. Accompany us on this wonderful journey that questions everything you've been told about healthy eating and healthy living up to this point in your life. Welcome to natureword.com!