Looking to detox after the holidays? If you've been indulging in rich sweet potato casserole, perfectly roasted turkey and the most delicious pecan or pumpkin pie, maybe it's a good idea to counteract the excesses with some light eating. And what better light eating that soup? Try these 4 healthy seasonal winter soups that make use of some of the best foods in season right now and maybe you'll want to add them to your weekly meal rotation schedule.
1 Leek soup with a modern twist
Leek soup is the seasonal winter version of classic onion soup. Because leeks are in season in December and a healthy onion-like vegetable, but considerably milder tasting, a leek soup may just be the best dish to cure indulgence. Clean and dry 2 medium leeks and chop finely (use both the greens and the whites). In a deep pot, add 4 tablespoons of cooking oil and stir-fry the leek until soft on medium-low heat, stirring continuously to prevent burning. Add 1 medium grated carrot (or large for extra sweetness) and cook for 10 more minutes – choose between orange carrots, yellow carrots, red carrots or black carrots.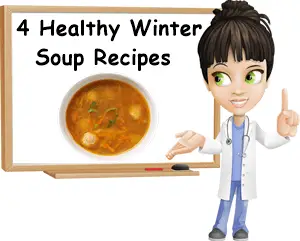 Add 1-1.5 liters of chicken broth/stock or vegetable broth/stock, put a lid on the pot and simmer until you bring to liquid down to half the amount. Season with salt and black or white ground pepper. You can also thicken the leek soup with 2-4 tablespoons of sour cream (per pot), and even puree it. Top each serving bowl with a few croutons, freshly chopped parsley and 1 tablespoon of grated Cheddar, Gruyere, Gouda or even Gorgonzola crumbles.
You can make your own chicken broth/stock by boiling chicken backs, with skin, chicken necks and a few chicken wings with lots of water on medium-low heat for about 2 hours. Similarly, you can make your own vegetable broth/stock by simmering celery stalks or celeriac, carrots and onions and/or leeks cut in large chunks and using just the clear broth/stock, or pureeing the boiled vegetables and adding them to the liquid. Speaking about soup, check out the wonderful benefits of chicken soup.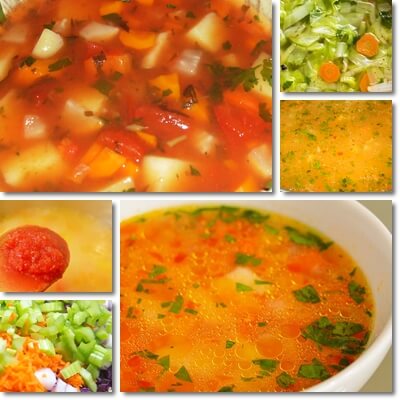 2 Vegetarian bean soup with leaf celery
This traditional bean soup is a hearty meal and can be made to be both vegetarian and vegan, and with meat. You will need about 500 g of dried beans of any kind: e.g. dried white beans, pinto beans, Roman, cranberry or borlotti beans, white kidney beans (cannellini), red kidney beans etc. Soak overnight or for 24 hours in lots of clean water – the beans can easily double in volume and absorb twice their weight in water which can help reduce cooking time, so fill the pot generously with water.
The next day proceed to saute 1 large onion or 1 large leek until soft and golden, then add 1 large grated carrot and 4 tablespoons of tomato sauce/4 medium tomatoes (peeled and cut into chunks)/2 tablespoons of tomato sauce and continue to cook over medium-low heat for 10 minutes. Remember to keep stirring. Add the soaked beans which should have doubled in volume by now and cover with water generously, then boil for as long as needed to cook them, adding water as you go.
Depending on the type of beans, cooking time may take anywhere from 2 hours to 6 hours. Using a pressure cooker can help cut down on cooking time. Once the beans are cooked, make sure there is enough water in the pot for the dish to qualify as soup. Chop and add the leaves from 4 stalks of Chinese celery, a variety of leaf celery, and cook for 15 more minutes. In the last 5 minutes of cooking, season with salt, pepper, dried oregano or thyme and fresh parsley. Enjoy!
3 Diet carrot and cabbage soup
After indulging in the most decadent of foods for even a couple of days, many people experience a little weight gain. But a simple seasonal vegetable soup is a great way to counteract the weight gain and enjoy a quick rollback. Diet carrot and cabbage soup is a plain soup, almost clear, but healthy and made with ingredients that are in season right now. You will need half a medium cabbage, be it green cabbage, white cabbage, purple or red cabbage. You will also need a medium-sized onion, white, yellow or red onion, and 2 large carrots.
If you are going for red cabbage, you can choose red carrots or purple or black carrots and red onion. If you are going for green cabbage, you can choose orange carrots or yellow carrots and yellow onion. If you are going for white cabbage, you can pair it with white carrots and white onion. Cut the cabbage into thin strips. Cut the onion finely and either grate the carrots or cut them into cubes. In a large pot, saute the onion in an oil of your choice over medium-low heat, then add the carrots and continue for another 10 minutes. Add 1 large tomato, peeled and chopped, or 1 tablespoon of tomato sauce or paste and cook for another 5-10 minutes. Keep stirring.
After that, add the cabbage strips, 3-4 whole bay leaves and 1.5-2 liters of water or vegetable broth/stock. Cook for 30 minutes over medium heat or simmer down to your liking. Towards the end of the cooking time, season with salt, ground pepper, dried oregano or thyme. Drizzle some extravirgin olive oil and enjoy hot or cold from the fridge. To make this cabbage and carrot soup heartier, you can add 3-4 small potatoes, 1-2 chopped sausages (fried or oven-roasted) or pieces of smoked ham, or top each bowl with 1 tablespoons of sour cream.
4 Winter root vegetable soup: potato, parsnip, celeriac
For this soup you will need 1.5 kg of red potatoes which hold better during cooking, 1 parsnip and 1/4 celeriac, also known as celery root, 1 onion or 1 leek for the base, oil, parsley and seasoning. Peel, clean and cut the potatoes, parsnip and celeriac into cubes. Chop the onion or leek and saute until golden brown. Add 1 tablespoon of tomato paste and continue cooking for 5-10 minutes over medium-low heat. Add 1 grated carrot and cook for another 5 minutes.
Add the root vegetables and 1.5-2 liters of vegetable broth. Boil for about 30-40 minutes or until the vegetables are cooked – soft, but holding their shape. Season with salt, pepper, thyme and fresh parsley and top serving bowls with 1 tablespoon of sour cream or 2 tablespoons of grated Cheddar or Parmesan.
To make it heartier, you can also add half a cup of rice, orzo or risoni or very thin spaghetti used for soups (e.g. barbine spaghetti or capelli d'angelo which are very thin strands of spaghetti, usually in a nest-like shape, or even taglierini which are smaller tagliatelle, or vermicelli). Just make sure you consider cooking times for each grain individually and add to the boiling soup accordingly.
This post was updated on Sunday / December 27th, 2020 at 9:33 PM