Pomegranate seeds oil is the oil extracted from the hard seeds of the pomegranate fruit. To clarify, the real seeds are the ones contained inside the pink-bright red, juicy, pulpy so-called 'seeds' which are in fact seed coatings (or arils). Technically, pomegranate seeds oil is an edible vegetable oil. However, it is not generally eaten, only employed for external uses. Not to mention that most commercially available pomegranate oil products are not destined for human consumption, only for topical use for skin, scalp and hair care. These products may contain ingredients that are not safe if ingested, including aromatic (essential) oils meant to improve the basic, oil-like fragrance of the pomegranate oil.
The health benefits of pomegranate seeds oil for topical use include intense moisturizing and emollient action, improved skin and hair appearance, hair damage repair, dandruff control as well as benefits for dry skin, dry, irritated scalp, even acne, eczema, psoriasis and other skin and scalp conditions. There are also some pomegranate seed oil benefits associated with internal use, but the use of the oil internally has been tested only in experimental studies. What this means is that there are no safety measures put in place for the internal use of the oil which is currently not a recommended practice. Talk to your doctor more about whether or not it is safe for you to use pomegranate seed oil internally without side effects or health risks.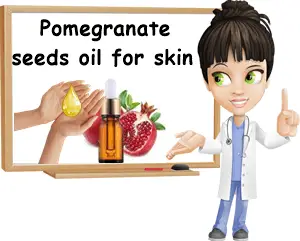 How to choose the best pomegranate seed oil. There is cold pressed, unrefined and refined pomegranate seed oil and mixes of pomegranate seed oil and various carrier or essential oils. There are certified organic and not-organic options as well. Learn more about the difference between the various types in the Properties and Benefits of Pomegranate Seed Oil.
Ideally, you should choose organic, cold pressed pomegranate seeds oil. It is made only by pressing the hard seeds using an oil press, under low temperatures (that's why it's called 'cold pressed'). The lack of intense heat prevents any changes to the fatty acids, vitamin E and antioxidants in the oil, conserving its natural properties and benefits for skin, scalp and hair.
How to use pomegranate seed oil for skin, scalp and hair care
1) Rub a few drops of cold pressed pomegranate seed oil between the palms of your hands for a few seconds, then apply to damp, dry or styled hair for shine and protection. Repeated use revitalizes dull hair and helps repair damaged hair.
Do not use before heat styling hair as it can result in damage to the hair.
If you have oily hair and scalp, apply the oil to the length of the hair only and avoid the roots and scalp. By applying the oil to the roots and scalp, hair will just become greasy.
If you have dry hair and scalp, apply to the length of the hair, roots and scalp.
If you have normal hair and scalp, decide which of the two is the best option for you individually.
Also see the best Nutrients for Strong Healthy Hair.
2) Use as a natural deep conditioning hair mask. Rub a few drop of the oil between the palms of your hands and apply to whole length of the hair, roots and scalp. Repeat the process a few times until the whole hair looks slightly oily. Cover with a towel and leave the oil in overnight, ideally for about 24 hours, then wash with a gentle shampoo the next day. This is a great way to deep condition hair for damage repair and control, revitalize dull hair and improve overall hair appearance and feel. The pomegranate oil mask is especially good for dry brittle hair as it smooths, nourishes and gives shines.
Deep conditioning is best done once a week and especially good for dry, brittle hair and damaged hair.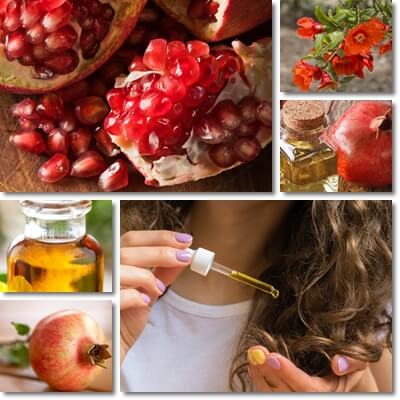 3) For dry, itchy scalp and dandruff. Proceed by slightly heating a few drops of pomegranate oil in the palms of your hand, then apply to the scalp. Massage the oil in for 10-15 minutes to counteract dry scalp, reduce irritation and itching and for dandruff control. Measure the amount of oil so hair doesn't look greasy.
4) Make-up removal or simply cleaning face of impurities. Apply a few drops of oil on a clean cotton disk or massage directly onto face with clean hands. Then remove impurities with a clean cotton disc. Repeat the process if needed. This can be done for the whole face, except the eye area. It's especially good for dry skin as it reduces the need to use harsh products such as soap or harsh cleansing products.
5) Use as a make-up base for dry skin. Apply 1-2 drops to the clean face and gently massage the oil in. It has a soothing and softening action as well as deeply nourishes the skin thanks to its good vitamin E content, perfect for holding make-up.
6) Use daily as natural anti-aging serum. Pomegranate seed oil exerts a light photo-protective action against UVB radiation. Its strong antioxidant properties help prevent and repair sun damage. And while it does not replace the need for sunscreen, it provides long-term anti-aging benefits, acting on fine lines and wrinkles.
7) May help improve eczema or psoriasis. Pomegranate seed oil has excellent emollient properties and helps soften skin and soothe irritation and inflammation. It also boasts anti-inflammatory properties as a result of its fatty acids content and moisturizing and nourishing action thanks to vitamin E. Used topically, it can hold benefits for eczema and psoriasis, helping calm itching, reduce inflammation, soften crusts and plaques and encourage healing.
8) Good for acne. The big question is: is pomegranate seed oil non-comedogenic? And the answer is: yes, it is non-comedogenic. What this means is that it doesn't block pores and doesn't cause acne. It even has anti-inflammatory and antibacterial properties which further contribute to its benefits for acne. The oil is best used in limited amounts (too much oil of any kind ends up feeding bacteria on the skin that are responsible for acne). Aided by an overall good face hygiene, pomegranate seed oil can help with acne prevention.
Unrefined, cold-pressed pomegranate seeds oil price ranges from around 18 dollars to over 30 dollars for a 4-ounce bottle. Buying in bulk comes with great discounts, but if it's for personal use, it's best to buy small quantities at a time and see how much it lasts you. The oil can be found online or you can buy it from health food stores in your area. Always get certified, 100% pure pomegranate seed oil and make sure it comes in a dark bottle or recipient. Check the expiration date and make sure sure there are no additives or other oils added. Store it in a sealed dark container in a cool, dry area.
Is pomegranate seed oil edible?
Technically, it is. It's made from the fats extracted from the hard seeds of the fruit, which makes it a vegetable oil like olive oil. And since you can eat the hard pomegranate seeds too, you can technically eat the oil made from them as well. And research acknowledges some rather wonderful properties of the oil (and seed extracts), including cholesterol-lowering properties, anti-inflammatory, anti-rheumatic and anticancer activities, hepatoprotective and blood sugar-lowering properties.
See article on Properties and Benefits of Pomegranate Seeds.
However, pomegranate seed oil is not commonly employed for consumption, mainly because most products commercially available are especially designed for topical use alone, for cosmetic purposes. And safety recommendations for consumption as well as minimum and maximum recommended intakes have not been formulated yet.
Overall, the oil is recognized as safe if ingested, non-toxic and is not expected to be a skin irritant, but poses risks of allergic reactions (although low) and is best not consumed in amounts higher than normal food intake for an oil.
This post was updated on Tuesday / August 4th, 2020 at 7:52 PM