Daikon radish is a variety of white radish that is slowly and surely making its way into Western cuisine. The healthy Daikon radish is naturally a winter seasonal vegetable, originally in season fall through winter. In terms of nutrition, the Daikon has a modest nutritional value, but compensates for it with other bioactive components that are important sources of benefits for health.
Daikon radishes are just as healthy as the more common pink radishes which makes them a good addition to any diet. You can eat Daikon radishes raw, cooked or pickled, and can incorporate them into a variety of dishes from salads to stews, soups and savory ethnic dishes. Although it's spring, right now Daikon radishes are still in season, not to mention they taste great. But how do you eat them? Discover 8 excellent Daikon radish recipes to try right now.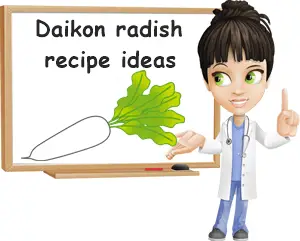 1) Raw Daikon radish side dish
One of the best ways to eat Daikon radishes is raw. The white radish has a pleasant, mild taste, slightly pungent with light sweet notes, and is crispy like a carrot. You can slice it thin and serve it as it is, as a side dish to a main course. Raw Daikon radish will add a fresh note to your meal, and you won't be able to stop eating it. If you are looking for more flavor, then just rub some pink Himalayan salt, and other spices such as spicy and smoked paprika, on the radish slices.
This is a great way to eat Daikon radishes if you are on a diet, for example, because the crisp and juicy radish slices will help hydrate and fill you up while keeping everything low calorie. Not to mention that eating Daikon radish raw helps preserve its vitamin C content intact. Vitamin C is a source of benefits for skin, gums and teeth and helps boost the immune system.
2) Simple Daikon radish salad
A simple Daikon radish salad is a great recipe to try if you're new to the vegetable and don't want to risk not liking it. Cut your Daikon radishes into thin slices, strips or smaller chunks. Add savory cherry tomatoes, greens like lettuce, arugula or Daikon radish microgreens, spicy pink radishes and a classic dressing made with salt, extravirgin olive oil and lemon juice.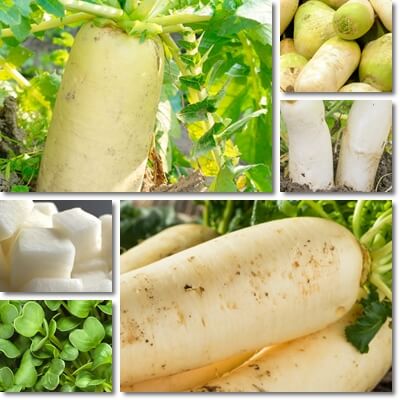 3) Daikon radish salad with Greek tzatziki dressing
Alternatively, pair Daikon radishes with fresh, crisp cucumber and drench everything in a traditional Greek tzatziki sauce made from a cup of Greek yogurt (sour yogurt), a couple of cloves of freshly crushed garlic, half a crushed cucumber, salt, and a little olive oil. You can add fresh dill or mint or even parsley to the dressing, as well as pink radishes. A great tip is to chill the dressing and even radishes beforehand to make everything taste even more refreshing.
4) High protein Daikon radish salad with eggs
You can pair Daikon radish with pleasantly bitter seasonal chicories and endives such as curly endive, Belgian endives or variegated radicchio, and hard boiled eggs such as whole hard boiled quail eggs, chopped hard boiled chicken eggs or creamier and richer chopped hard boiled duck eggs. Add fine red onion slices and even some marinated olives for extra flavor. Season the salad plainly, with salt and extravirgin olive oil.
5) Warm roasted Daikon radish and chicken salad
Cut your Daikon radish lengthwise, spray with a little oil and roast in the oven until soft and tender. Once done, portion to your liking and pair with warm rotisserie chicken, chopped or shredded, Belgian endives, peeled apple and some greens such as sugarloaf chicory, escarole, curly endive, spinach, radish microgreens, arugula, kale. Season with salt, extravirgin olive oil and some lemon juice.
6) Daikon radish spring rolls
Season shredded Daikon radish, white carrot, black carrot, spring onions or red onion, leek and porcini mushrooms plainly with salt and pepper and your choice of herbs and spices (e.g. parsley, lovage, anise, ginger, paprika). Stir fry in a pan until lightly cooked. Form the rolls by wrapping a small amount of the filling in pieces of pastry, and fry in the pan.
Alternatively, spray with some oil and roast in the oven. For an even healthier recipe, cook the vegetables and use a thin unleavened flat bread or flour tortillas instead of pastry which you just heat in a pan without any oil or fat. Serve with soy sauce, a sweet and sour sauce, or on top of an arugula, cherry tomatoes and Belgian endives salad.
7) Daikon radish cream soup
For the best taste, roast your Daikon radishes in the oven until soft. Puree using a food processor. Add two medium sized boiled potatoes, two medium sized boiled white carrots (to keep it in the same color range), two tablespoons of sour cream and puree everything together. If needed, add warm water left over from boiling the other vegetables to reach the desired consistency. Season with salt, pepper and extravirgin olive oil. Serve as it is, or with grated cheddar cheese on top or crumbled feta cheese, or with toasted bread croutons.
Alternatively, you can pair Daikon radish with roasted red beetroot for a bright pink-red cream soup. Or pair it with boiled red carrots or orange or red sweet potatoes to make it taste sweeter and look more appealing. You can also incorporate other root vegetables such as parsnip or turnip.
To make pickled Daikon radish for the first time, use your favorite pickles recipe. Cut Daikon radishes into thicker, French fries-size strips. You can pair the white radishes with white carrot or Florence fennel (fennel bulb) for a color coordinated jar. You can add white onion rings, white mustard seeds and white pepper too. Horseradish will make the pickled Daikon radishes spicy, and so will chili peppers.
You can use red beetroot to color the pickled Daikon radishes bright pink, or turmeric to make them golden yellow. Pickle your Daikon radishes in a water, vinegar, oil, salt and sugar solution in sterile jars for food safety reasons.
This post was updated on Monday / March 29th, 2021 at 11:31 PM