What is the nutritional value of 100 grams of blueberries? How many vitamins in 100 grams of blueberries? How many calories for the same amount? How much of the daily values for essential vitamins does 100 grams of blueberries get you? Is 100 grams of blueberries a good amount to eat?
Blueberries qualify as a modestly nutritious fruit with an unimpressive nutritional value, except for a few essential vitamins and dietary minerals. The bulk of health benefits associated with regular consumption of blueberries can be traced back to the fruit's massive antioxidant content, and particular antioxidant profile (e.g. pigmented anthocyanins).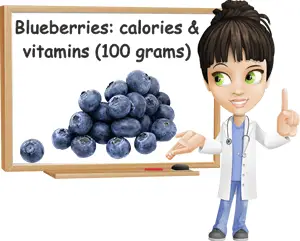 Nutrition facts per 100 grams of raw blueberries:

Energetic value (calories): 57 kcal (kilocalories, calories)
Carbohydrates content: 14.5 grams of carbs (total, including sugar)
Sugar content: 9.96 grams of sugars (fructose and glucose in almost equal amounts)
Fiber content: 2.4 grams of dietary fiber (contained in large amounts in the fruit skin)
Protein: 0.74 grams of protein (the protein in blueberries does not have all essential amino acids)
Fat content: 0.33 grams of fat (blueberry seeds also contain some of the fat in the fruit)
Water content: 84.2 grams of water
Blueberries vitamins per 100 grams:
Vitamin A: only 3 micrograms (mcg) from pigmented beta-carotene antioxidants, but no retinol
Vitamin B1: 0.037 milligrams (mg)
Vitamin B2: 0.041 milligrams
Vitamin B3: 0.418 milligrams
Vitamin B5: 0.124 milligrams
Vitamin B6: 0.052 milligrams
Vitamin B9 (folate): 6 micrograms (mcg)
Vitamin B12: 0 (There is no vitamin B12 in blueberries.)
Choline: 6 milligrams (mg)
Vitamin C: 9.7 milligrams
Vitamin D: 0 (There is no vitamin D in blueberries.)
Vitamin E: 0.57 milligrams (mg)
Vitamin K: 19.3 micrograms (mcg) in the form phylloquinone
Blueberries minerals per 100 grams:
Calcium: 6 milligrams (mg)
Copper: 57 micrograms (mg)
Iron: 0.28 milligrams (mg), mainly non-heme iron
Magnesium: 6 milligrams
Manganese: 0.336 milligrams
Phosphorus: 12 milligrams
Potassium: 77 milligrams
Selenium: 0.1 micrograms (mcg)
Sodium: 1 milligram (mg)
Zinc: 0.16 milligrams
Nutrition facts from USDA.gov.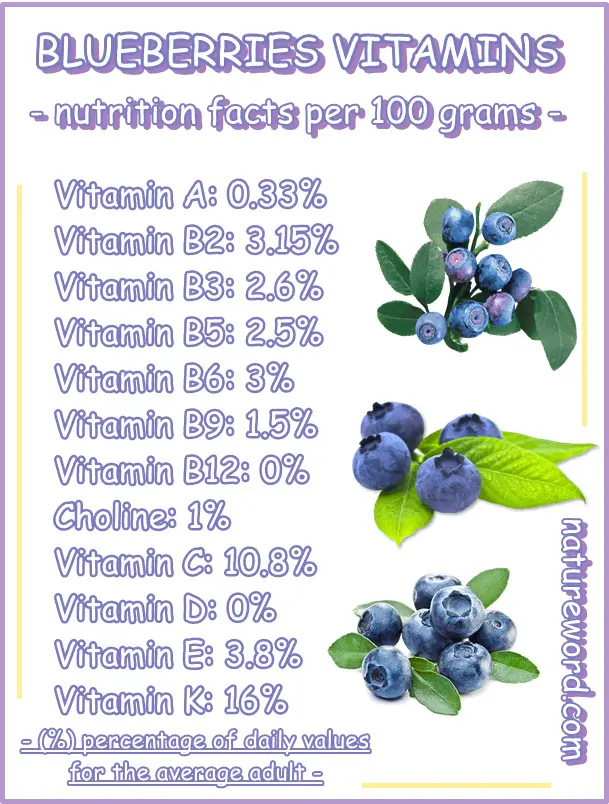 Blueberries daily values of vitamins and minerals (for 100 grams)

Energetic value: just 2.85% of the daily calorie intake for the average adult
Carbohydrates: 5.3% of daily requirements for an adult person
Dietary fiber: 8.6% of daily requirements
Protein: less than 1.5% of daily requirements
Fat: 0.42% of daily requirements
Sugar: Blueberries are 10% sugar.
Water content: Blueberries are 84% water.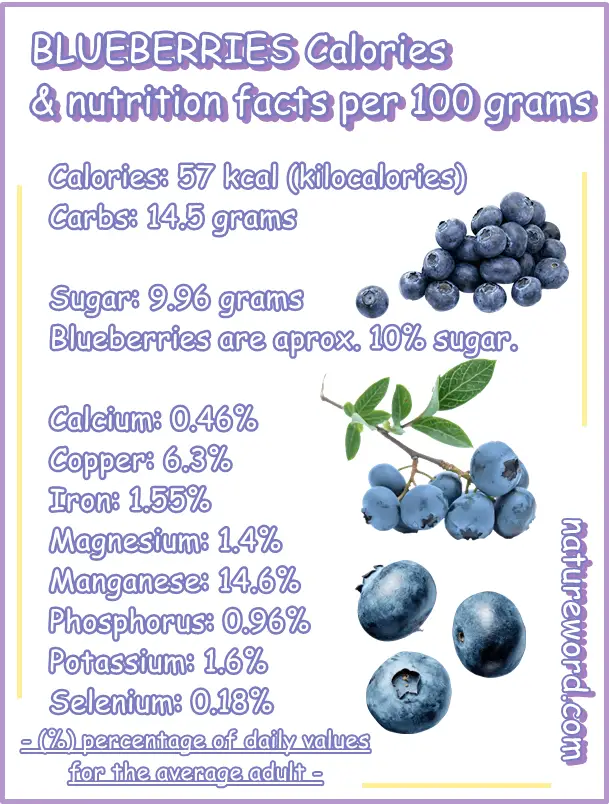 Blueberries vitamins: Daily Values per 100 grams
Vitamin A: 0.33% of daily values for the average adult person
Vitamin B1: 3%
Vitamin B2: 3.15%
Vitamin B3: 2.6%
Vitamin B5: 2.5%
Vitamin B6: 3%
Vitamin B9: 1.5%
Vitamin B12: 0%
Choline: 1%
Vitamin C: 10.8%
Vitamin D: 0%
Vitamin E: 3.8%
Vitamin K: 16%
Blueberries minerals: Daily Values per 100 grams
Calcium: 0.46%
Copper: 6.3%
Iron: 1.55%
Magnesium: 1.4%
Manganese: 14.6%
Phosphorus: 0.96%
Potassium: 1.6%
Selenium: 0.18%
Are blueberries good for you? How much?
Blueberries are moderately low in calories and not excessively high in carbs or sugar. Their sugar content is moderated by a good content of dietary fiber which balances the effects on blood sugar of the berries. Otherwise, blueberries have a modest nutritional value, with good amounts of just vitamin C, vitamin K and manganese.
What recommends blueberries for regular consumption is not their calories or vitamins content, but their high content of antioxidants with scientifically proven free radical-scavenging and anti-inflammatory properties.
So long as you don't go looking to get all the vitamin A or vitamin C you need in a day from blueberries, or your iron or calcium, they are definitely a good option for you. Amounts in the range of 100 grams to 200 grams are good serving sizes, enough to provide some nutrition and lots of antioxidants with a range of health benefits.
This post was updated on Saturday / October 2nd, 2021 at 9:38 PM