What is the nutritional value of one boiled duck egg? How many vitamins in just one boiled duck egg? How many minerals? How many calories in one boiled duck egg? How much fat and cholesterol? What is the protein content of one boiled duck egg? How much of your daily nutrition does one boiled duck egg get you?
In order to better understand how nutritious a food is, it helps to know just how much of your daily requirements for micro and macronutrients a fixed amount of said food provides. Discover below what percentage of your recommended daily intake of essential vitamins, minerals, protein, fat, cholesterol, carbs and calories you get from eating one boiled duck egg.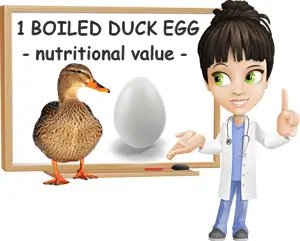 Duck eggs: nutritional content of 1 duck egg, boiled
Nutrition data for one boiled duck egg, with egg white and egg yolk (average estimated weight: 70 grams).
Energetic value: 156 kcal (kilocalories, calories)
Carbohydrates content: 0.952 grams
Sugar content: 0.609 grams
Fiber content: 0 g
Protein content: 8.37 grams
Fat content: 13 grams
Cholesterol content: 580 mg (milligrams)
Water content: 46.7 g
Vitamins in one boiled duck egg:
Vitamin A: 144 mcg (micrograms) of which 141 mcg retinol (preformed vitamin A)
Vitamin B1: 0.082 mg (milligrams)
Vitamin B2: 0.251 mg
Vitamin B3: 0.118 mg
Vitamin B5: 1.3 mg
Vitamin B6: 0.181 mg
Vitamin B9: 39.2 mcg
Vitamin B12: 2.82 mcg
Choline: 138 mg
Vitamin C: 0 mg
Vitamin D: 1.12 mcg
Vitamin E: 1.34 mg
Vitamin K: 3.92 mcg
Minerals in one boiled duck egg:
Calcium: 42 mg
Copper: 0.041 mg
Iron: 2.51 mg
Magnesium: 11.2 mg
Manganese: 0.027 mg
Phosphorus: 144 mg
Potassium: 146 mg
Selenium: 23.7 mcg (micrograms)
Sodium: 186 mg
Zinc: 0.924 mg
Nutrition data from USDA.gov.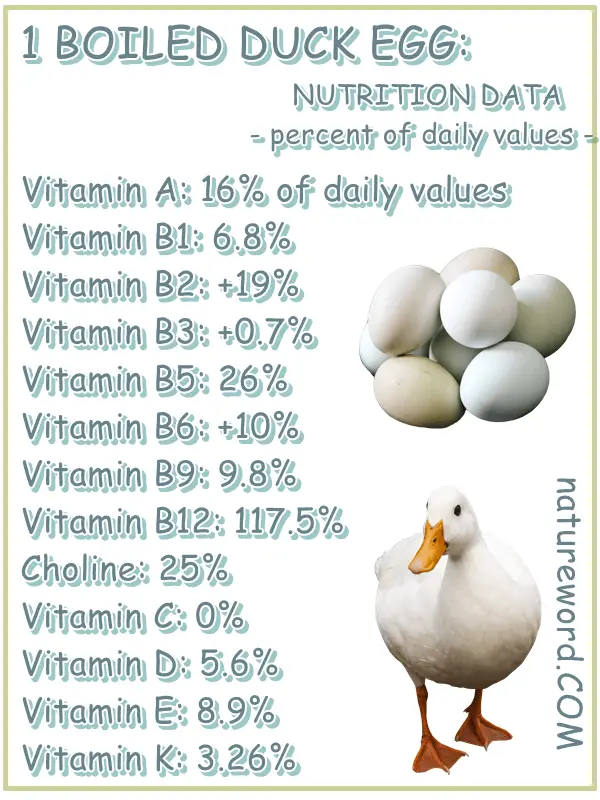 How much nutritional value do you get from one boiled duck egg?
Daily values of macronutrients (fat, protein, carbs, cholesterol) for one duck egg, boiled:
Carbs: 0.35% of daily carbohydrate values for the average adult
Protein: 16.7% of daily protein values
Fat: 16.66% of daily fat values
Cholesterol: 193% of daily cholesterol values
Sugar: while duck eggs have trace amounts of actual sugar, they do not contain any added sugars and do not count towards added sugar values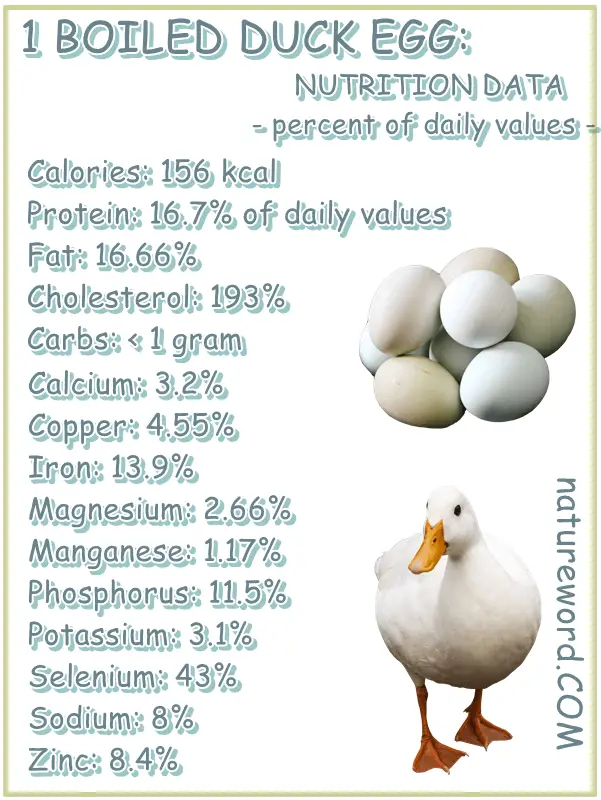 Daily values of essential vitamins for one duck egg, boiled:
Vitamin A: 16% of daily values
Vitamin B1: 6.8% of daily values
Vitamin B2: 19.3% of daily values
Vitamin B3: 0.737% of daily values
Vitamin B5: 26% of daily values
Vitamin B6: 10.64% of daily values
Vitamin B9: 9.8% of daily values
Vitamin B12: 117.5% of daily values
Choline: 25% of daily values
Vitamin C: 0% of daily values
Vitamin D: 5.6% of daily values
Vitamin E: 8.9% of daily values
Vitamin K: 3.26% of daily values
Daily values of essential minerals for one duck egg, boiled:
Calcium: 3.2% of daily values
Copper: 4.55% of daily values
Iron: 13.9% of daily values
Magnesium: 2.66% of daily values
Manganese: 1.17% of daily values
Phosphorus: 11.5% of daily values
Potassium: 3.1% of daily values
Selenium: 43% of daily values
Sodium: 8% of daily values
Zinc: 8.4% of daily values
This post was updated on Saturday / July 10th, 2021 at 1:38 PM