One way to eat duck eggs that is both healthy and convenient is boiled. Most people will eat two eggs at a time, a good amount that both curbs hunger and satiates, while providing the mental satisfaction of a good meal. But what is the nutritional value of two boiled duck eggs? How much do two boiled duck eggs contribute to daily nutritional requirements for an average adult? How much protein, fat and cholesterol in two boiled duck eggs? How many carbs, calories and vitamins?
Duck eggs nutrition
The average weight of one duck egg is 70 grams, 20 grams more than the average chicken egg. A serving of 2 duck eggs will get you 40 grams more egg which accounts for a significant increase in the nutritional value of the meal. Not just this, but duck eggs are naturally more nutritious than chicken – duck eggs have more vitamins, dietary minerals, cholesterol, fat, protein and calories compared to chicken. This is because there's more yolk in duck eggs vs chicken eggs and egg yolk houses all of the fat, cholesterol and half of the protein content of the whole egg, not to mention all of the fat soluble vitamins such as vitamin D and vitamin K and many of the water soluble vitamins such as B vitamins. More yolk equals a better nutritional value. See the benefits of eating egg yolk.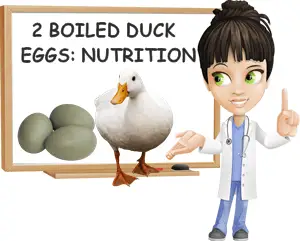 Duck egg: nutrition facts per two boiled duck eggs
Nutrition data for two cooked, boiled duck eggs with egg white and egg yolk.
Energetic value: 312 kcal (kilocalories)
Carbohydrates content: 1.9 g (grams)
Sugar content: 0.609  g
Fiber content: 0 g
Protein content: 16.74 g
Fat content: 26 g
Cholesterol content: 1160 mg (milligrams)
Water content: 93.4 g
Vitamins in two boiled duck eggs:
Vitamin A: 288 mcg (micrograms) of which 282 mcg retinol (preformed vitamin A)
Vitamin B1: 0.164 mg (milligrams)
Vitamin B2: 0.502 mg
Vitamin B3: 0.236 mg
Vitamin B5: 2.6 mg
Vitamin B6: 0.362 mg
Vitamin B9: 78.4 mcg
Vitamin B12: 5.64 mcg
Choline: 276 mg
Vitamin C: 0 mg
Vitamin D: 2.24 mcg
Vitamin E: 2.68 mg
Vitamin K: 7.84 mcg
Minerals in two boiled duck eggs:
Calcium: 84 mg
Copper: 0.082 mg
Iron: 5.02 mg
Magnesium: 22.4 mg
Manganese: 0.054 mg
Phosphorus: 288 mg
Potassium: 292 mg
Selenium: 47.4 mcg (micrograms)
Sodium: 372 mg
Zinc: 1.848 mg
Legend:
g (grams)
mg (milligrams)
mcg (micrograms)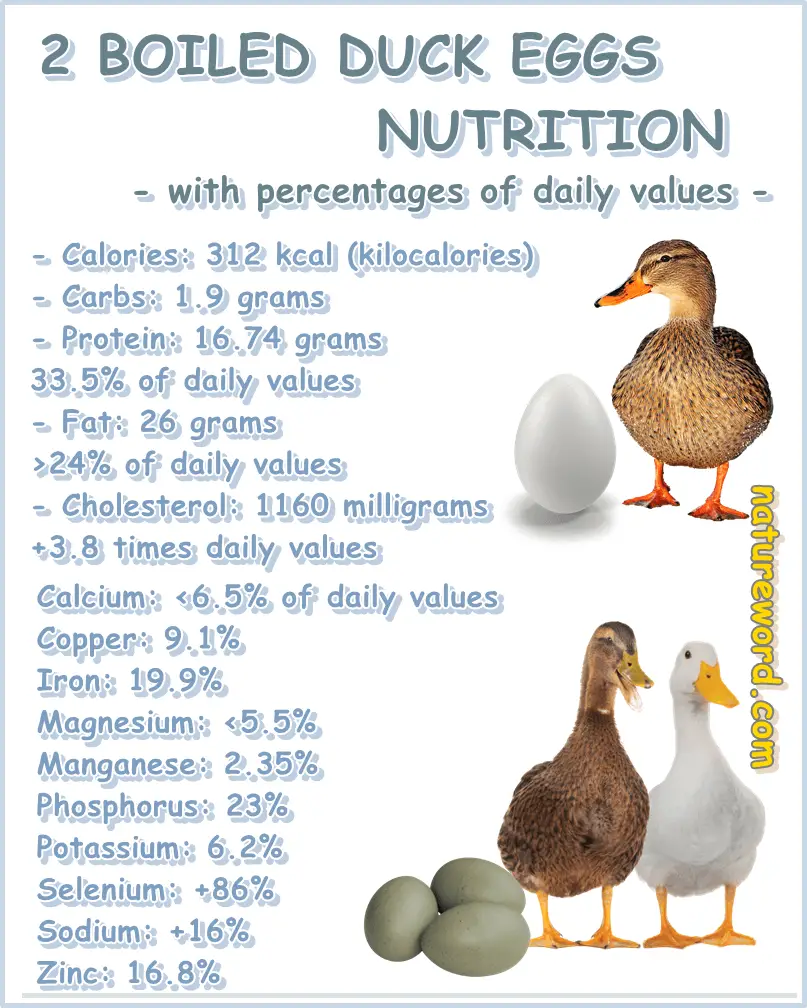 How much nutritional value do you get from eating two boiled duck eggs?
How much of your daily nutrition values do you get from eating 2 boiled duck eggs? How many calories, vitamins and minerals in 2 boiled duck eggs? How much fat, protein and cholesterol in 2 boiled duck eggs?
Daily values of macronutrients (fat, protein, carbs, cholesterol) for 2 boiled duck eggs, whole, with egg yolk and egg white:
Carbs: 0.69% of daily carbohydrate values for the average adult
Protein: 33.5% of daily protein values
Fat: 24.76% of daily fat values
Cholesterol: 386.667% of daily cholesterol values
Sugar: while duck eggs have trace amounts of actual sugar, they do not contain any added sugars and do not count towards daily added sugar values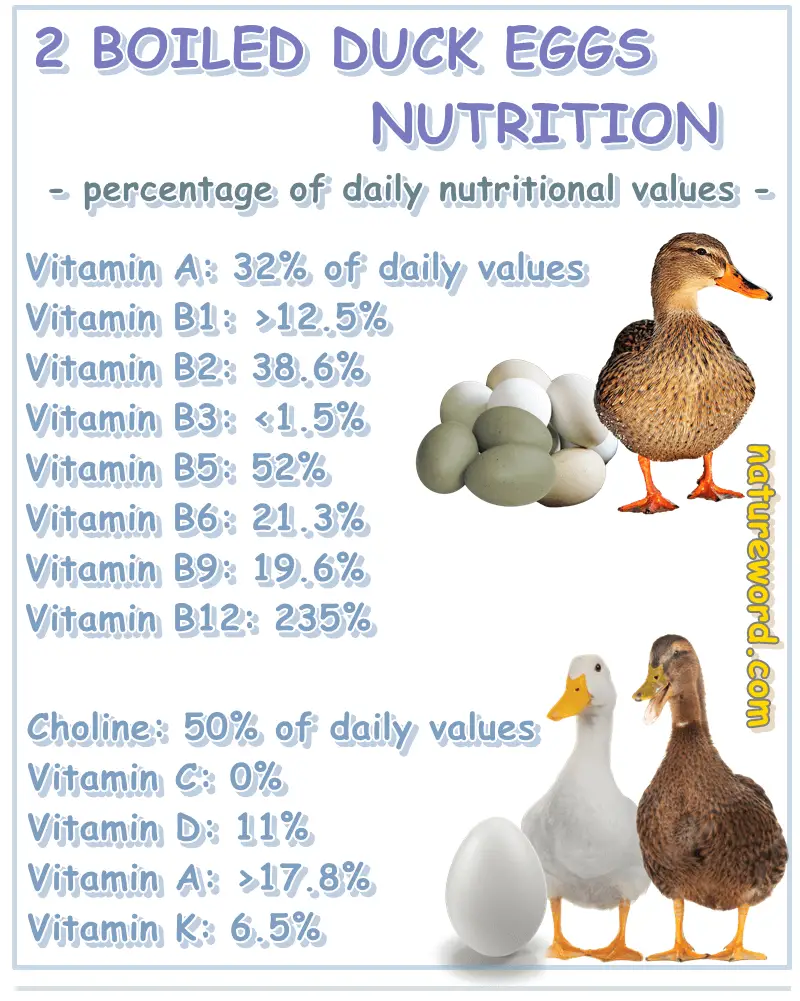 Daily values of essential vitamins for 2 boiled duck eggs:
Vitamin A: 32% of daily values
Vitamin B1: 12.66% of daily values
Vitamin B2: 38.6% of daily values
Vitamin B3: 1.475% of daily values
Vitamin B5: 52% of daily values
Vitamin B6: 21.29% of daily values
Vitamin B9: 19.6% of daily values
Vitamin B12: 235% of daily values
Choline: 50% of daily values
Vitamin C: 0% of daily values
Vitamin D: 11% of daily values
Vitamin E: 17.86% of daily values
Vitamin K: 6.5% of daily values
Daily values of essential minerals for 2 boiled duck eggs:
Calcium: 6.46% of daily values
Copper: 9.1% of daily values
Iron: 19.9% of daily values
Magnesium: 5.33% of daily values
Manganese: 2.35% of daily values
Phosphorus: 23% of daily values
Potassium: 6.2% of daily values
Selenium: 86.18% of daily values
Sodium: 16.17% of daily values
Zinc: 16.8% of daily values
This post was updated on Saturday / July 10th, 2021 at 11:46 AM