Duck eggs have excellent nutritional value and are a nutritionally dense food. But what exactly is the nutritional content of one duck egg? How much of the recommended daily intake of fat, protein, cholesterol, vitamin B12, vitamin D, vitamin K, iron, zinc and other vitamins and minerals do you get from eating just one duck egg? How many calories and carbs does one whole duck egg get you?
Duck eggs nutrition
One duck egg weighs 70 grams, 20 grams more than the average chicken egg which means you actually get more egg if you choose duck eggs over chicken, and better nutrition as a result. Duck eggs also naturally contain more vitamins, dietary minerals, cholesterol, fat, protein and calories compared to chicken. Not just this, but there's also more yolk in duck eggs vs chicken eggs – the egg yolk houses all of the fat, cholesterol and half of the protein content of the whole egg, not to mention all of the fat soluble vitamins such as vitamin D and vitamin K and many of the water soluble vitamins such as B vitamins. More yolk equals a better nutritional value.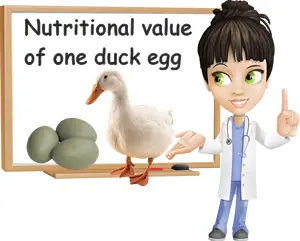 Duck eggs: nutrition facts per 1 duck egg, raw
Nutrition data for one raw duck egg, with egg white and egg yolk (average estimated weight: 70 grams).
Energetic value: 130 kcal (kilocalories)
Carbohydrates content: 1.02 g (grams)
Sugar content: 0.65 g
Fiber content: 0 g
Protein content: 8.96 g
Fat content: 9.66 g
Cholesterol content: 619 mg (milligrams)
Water content: 49.6 g
Vitamins in one duck egg, raw:
Vitamin A: 136 mcg (micrograms) of which 134 mcg retinol (preformed vitamin A)
Vitamin B1: 0.109 mg
Vitamin B2: 0.283 mg
Vitamin B3: 0.14 mg
Vitamin B5: 1.3 mg
Vitamin B6: 0.175 mg
Vitamin B9: 56 mcg
Vitamin B12: 3.78 mcg
Choline: 184 mg
Vitamin C: 0 mg
Vitamin D: 1.19 mcg
Vitamin E: 0.938 mg
Vitamin K: 0.28 mcg
Minerals in one duck egg, raw:
Calcium: 44.8 mg
Copper: 0.043 mg
Iron: 2.7 mg
Magnesium: 11.9 mg
Manganese: 0.027 mg
Phosphorus: 154 mg
Potassium: 155 mg
Selenium: 25.5 mcg (micrograms)
Sodium: 102 mg
Zinc: 0.987 mg
Nutrition data from USDA.gov.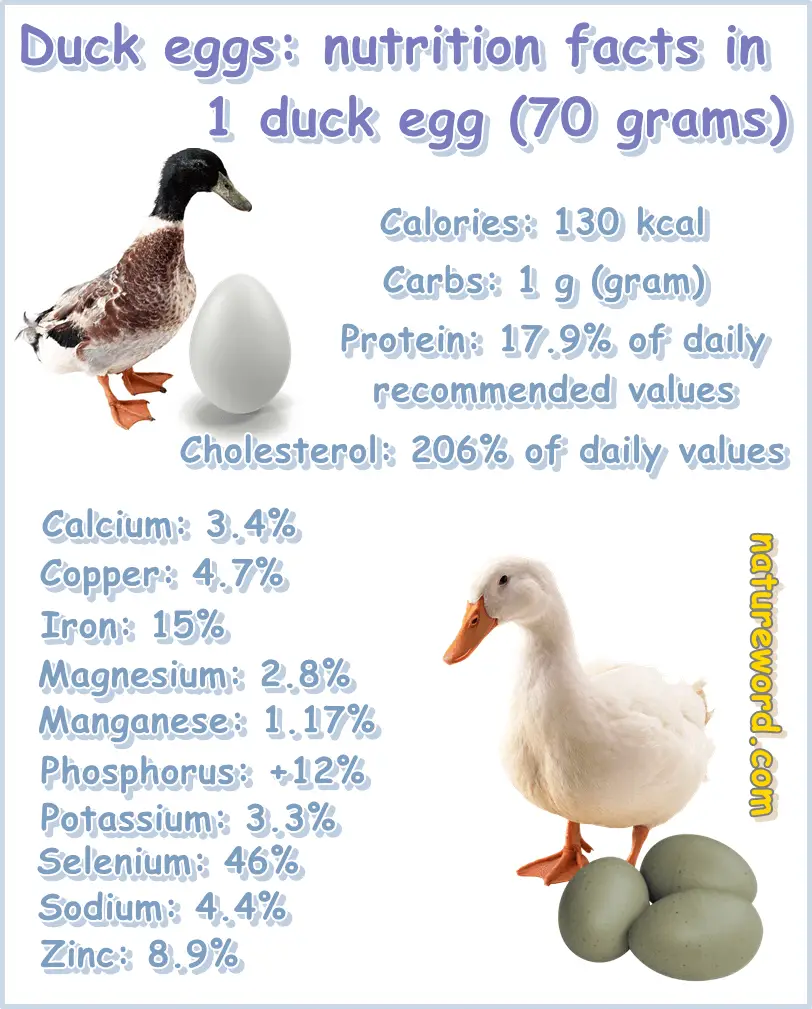 How much nutritional value do you get from one duck egg?
Just one duck egg at an estimated weight of 70 grams can get you the following amounts of essential vitamins, dietary minerals, carbs, sugar, fat, protein, cholesterol and calories:
Daily values of macronutrients (fat, protein, carbs, cholesterol) from one duck egg:
Carbs: 0.37% of daily carbohydrate values for the average adult
Protein: 17.9% of daily protein values
Fat: 12.38% of daily fat values
Cholesterol: 206% of daily cholesterol values
Sugar: while duck eggs have trace amounts of actual sugar, they do not contain any added sugars and do not count towards added sugar values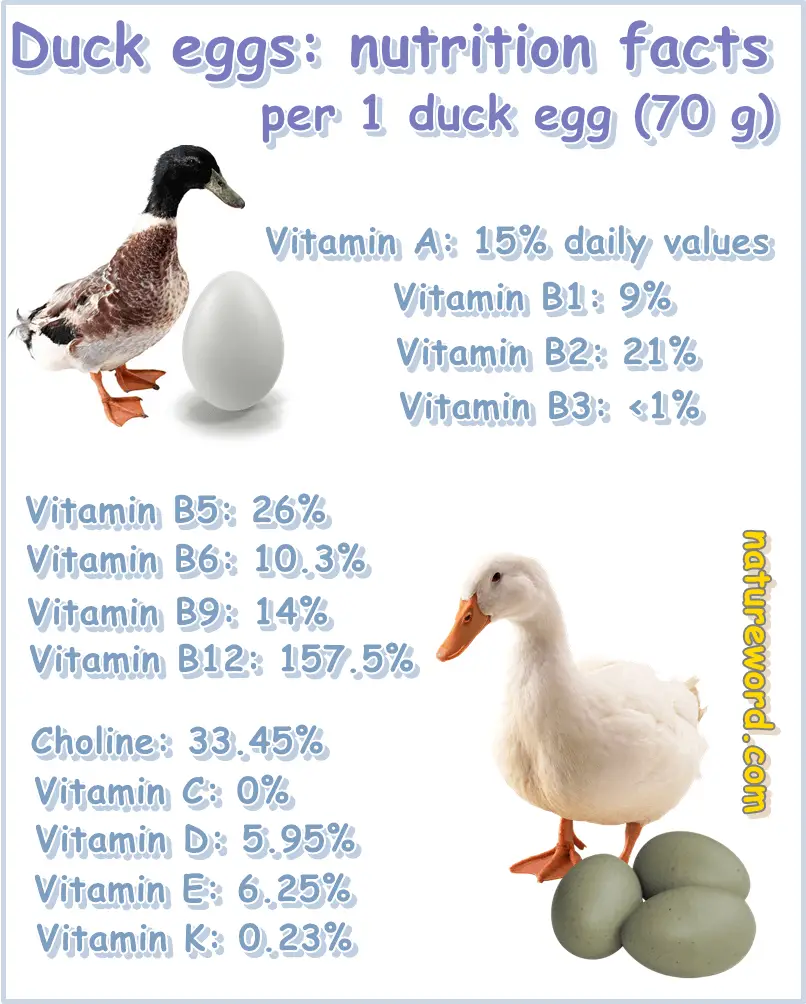 Daily values of essential vitamins from one duck egg:
Vitamin A: 15% of daily values
Vitamin B1: 9% of daily values
Vitamin B2: 21% of daily values
Vitamin B3: 0.875% of daily values
Vitamin B5: 26% of daily values
Vitamin B6: 10.3% of daily values
Vitamin B9: 14% of daily values
Vitamin B12: 157.5% of daily values
Choline: 33.45% of daily values
Vitamin C: 0% of daily values
Vitamin D: 5.95% of daily values
Vitamin E: 6.25% of daily values
Vitamin K: 0.23% of daily values
Daily values of essential minerals from one duck egg:
Calcium: 3.4% of daily values
Copper: 4.7% of daily values
Iron: 15% of daily values
Magnesium: 2.8% of daily values
Manganese: 1.17% of daily values
Phosphorus: 12.3% of daily values
Potassium: 3.3% of daily values
Selenium: 46% of daily values
Sodium: 4.4% of daily values
Zinc: 8.9% of daily values
This post was updated on Tuesday / July 6th, 2021 at 2:29 PM