Breakfast is the first meal of the day and can set the mood for the rest of it. Skipping it can make us moody and less able to focus on the tasks at hand. But considering that hunger does install at one point in the morning, people who skip their breakfast end up eating unhealthy foods and pack empty calories instead of essential nutrients. Moreover, many people choose 20 extra minutes of sleep over a nice breakfast. While oversleeping in the morning might seem like a great idea, it isn't really that good if it causes us to miss breakfast.
Similarly, some people choose to skip breakfast because they simply don't know what to eat in the morning. The usual menu choices, the foods we eat on repeat every morning are just not that appealing anymore. The lack of ideas to tempt us to sit down and calmly enjoy a nice breakfast is what causes most people to skip their first meal of the day. Luckily, we can all contribute and inspire each other to vary our morning meals and have a great start to a great day.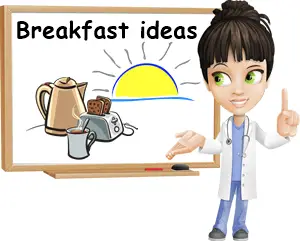 Considering that breakfast gives the start to our day, it should be rich in essential nutrients such as vitamins and dietary minerals, but also dietary fiber, antioxidants, healthy fats, quality protein and some carbohydrates. Just as important, breakfast should be varied and cater to our taste and culinary preferences. Lastly, it should be sufficiently satiating, which means that having a cup of coffee or a salad leaf is out of the question. I admit I generally like my breakfast to contain some protein because I find protein satiates me. At the same time, I like to keep it light so when I get up to start my day I don't feel heavy and slow. But what helps me never skip my breakfast is varying what I eat.
So here are 12 of my favorite ideas for a quick, healthy, savory breakfast:
1) Strained Greek yogurt, unflavored, oats, almonds and acacia honey. I love simple sour yogurt and I like to mix it with a cup of oats for a better digestion and a more regular intestinal transit (oats are a great dietary fiber source). I like to add almonds for texture and honey for more flavor. Acacia honey is the least allergenic and thus more suited for those of you fearing honey mixes because of hidden allergens. The reason why I prefer this particular variety is because I can find 100% pure acacia honey close to where I live.
2) A 2-egg omelette, almonds or walnuts and a hearty slice of cantaloupe. I must admit I am a sucker for fruit. Depending on how hungry I am or not, I may pair my omelette with 1 or 2 slices of fresh cereal bread or whole wheat bread. I don't add milk to my omelette because I simply don't like the fuss and feel it doesn't contribute much to its texture as long as I whisk the eggs well. The almonds or walnuts (10-15 maximum) help satiate me and are incredibly rich in dietary minerals, while cantaloupe is a healthy favorite fruit of mine.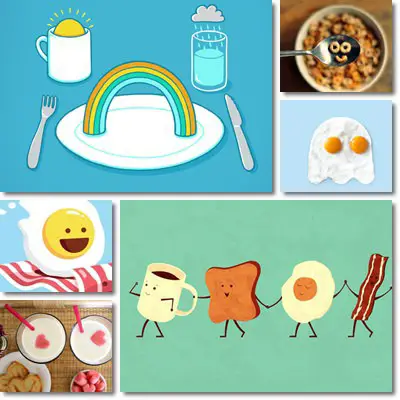 3) Banana, ricotta and Nutella. Not a dietitian's recommendation, but one of my favorite fast, no-cook breakfast recipes. I admit I don't eat it very often (maybe once a week), but it's a nice change from time to time. But more important, bananas contain potassium to help regulate blood pressure, while ricotta cheese is not only creamy and delicious, but also a protein-rich food and easy on the stomach.
4) Scrambled eggs with hard goat cheese, leek and whole wheat bread. When hungry, I whisk 2 medium-sized chicken eggs really well, add about half of a chopped leek stem (I enjoy both the white and the green part) and crumbled goat cheese. This scrambled eggs variant is delicious and satiating because of the protein and fats content of the eggs and goat cheese and easy on the stomach (leeks are milder than onions).
5) Wholegrain bread, ricotta or fresh cottage cheese, bacon, arugula and fresh figs. I spread a generous helping of creamy ricotta cheese or cottage cheese on two slices of wholegrain bread, then line each slice with 2-3 strips of bacon, enough arugula to cover the slice and 1-2 fresh figs cut in half. Only two slices of bread prepared this way can fill me for about 2-3 hours.
6) Wholegrain bread, ricotta, fresh or pan roasted nectarine and toasted sunflower seeds or raw almond flakes. The first thing I do is remove the stone from a larger nectarine, then cut it into not too thin, not too thick slices which I roast in a non-stick pan. I spread ricotta on two slices of whole wheat bread and fill them with soft-cooked nectarine slices. I then quickly throw a handful of sunflower seeds in the pan and toast them for two minutes. I either cover the ricotta, nectarine bread with them or enjoy them separately afterwards. Raw almond flakes are just as good of a combination.
7) Rye bread, poached eggs and arugula and hard goat cheese salad. While I bring a small pot of water to the boil, I cut two slices of rye bread. In a separate bowl, I toss a handful of arugula and crumble some hard goat cheese, seasoning with a little extravirgin olive oil. I add salt and a tablespoon of vinegar to the boiling water, then gently break two eggs into the pot and let them cook for 2 minutes or so. I take the eggs out with a spoon or skimmer while still soft, yet firm and let them drain for 1 minute, then eat. Poached eggs not only provide a lot of protein and much needed fats, but are also very easy on the stomach, while arugula is rich in vitamins such as A and K..
8)  Sesame seed bun, smoked salmon, heirloom tomatoes and mayonnaise. One of my favorite sandwiches, satiating and savory. I cut one sesame seed bun in half, lengthwise, add 50 g of smoked salmon, two or three slices of heirloom tomatoes and a tablespoon of mayonnaise on the lower half, then put the top half on.
9) Sesame seed bun, smoked salmon, cucumber, dill and cottage cheese. This is the same as above, only with slightly different ingredients. I cut some dill very finely and mix it with cottage cheese, then spread a generous helping on the lower half of the sesame seed bun. I then add salmon and enough cucumber slices to cover it. Dill gives a particular flavor to the cheese, while the saltier salmon goes great with the fresh, yet bland cucumber.
10) Toasted wholegrain bread, 1 sunny side up egg, 1 lettuce leaf (or some arugula), 3-4 bacon strips and tomato slices. I toast two slices of wholegrain bread in a non-stick pan, remove them, then cook 3-4 strips of bacon. In the same pan with the leftover bacon grease, I cook a sunny side up egg, careful not to overcook it (nothing about it should look fried). I put the bacon on the toast, then add a generous helping of arugula or a lettuce leaf folded in half and the egg. Season with salt and pepper.
11) Fresh figs, arugula, table grapes, walnuts, bacon strips, goat cheese salad with honey and balsamic vinegar dressing. I toss a handful of torn arugula leaves in a bowl, add 6 ot 7 bacon strips and crumble matured goat cheese. I then add a handful of table grapes and 5-6 fresh figs cut in half. I mix two tablespoons of honey with a tablespoon of balsamic vinegar and dress the salad. I a big fan of fruits, so this is a great breakfast for me.
12) A 2-egg omelette with patience dock (2 medium-sized leaves), salt, pepper and grated Parmesan. I chop and wilt 2 patience dock leaves in a non-stick pan, season with only a pinch of salt and pepper, then add two whisked chicken eggs. After I transfer the omelette to a plate, I grate Parmesan over it. While it does contain plenty of salt, Parmesan is rich in protein and a varied and balanced diet can only benefit from the occasional consumption of this savory cheese. I also like to substitute patience dock with wild garlic or ramsons (Allium ursinum).
I'm no cook so I go for easy so-called recipes that require a minimum time in the pan and no complications. After all, nobody really has the time to cook breakfast. But there's no reason why we can't enjoy something healthy that requires little time and even less effort. Granted, my tastes are particular, but if you find yourself at a loss for breakfast ideas one morning, maybe one of the above recipes might come in handy for you.
This post was updated on Monday / July 20th, 2020 at 6:46 PM