Blueberries may not be in season right now, but they are still available as frozen fruit until they come back in season again. The biggest benefit of frozen blueberries is that they preserve most of the nutritional value of the fresh berries, if not all, essentially making up for the fresh berries not being available.
But what exactly is the nutrition of frozen blueberries? How many vitamins and minerals in 100 grams of frozen blueberries? How many calories for the same amount? How much of the daily values for essential vitamins and other nutrients does 100 grams of frozen blueberries get you?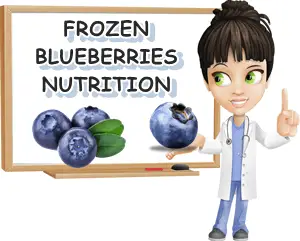 Nutrition facts per 100 grams of frozen blueberries:

Energetic value (calories): 51 kcal (kilocalories)
Carbohydrates content: 12.2 grams of carbs
Sugar content: 8.45 grams of sugars
Fiber content: 2.7 grams of dietary fiber
Protein: 0.42 grams of protein (the protein in blueberries does not have all essential amino acids)
Fat content: 0.64 grams of fat
Water content: 86.6 grams of water
Vitamins in 100 grams of frozen blueberries:

Vitamin A: only 2 micrograms (mcg) from pigmented beta-carotene antioxidants, but no retinol
Vitamin B1: 0.032 milligrams (mg)
Vitamin B2: 0.037 milligrams
Vitamin B3: 0.52 milligrams
Vitamin B5: 0.125 milligrams
Vitamin B6: 0.059 milligrams
Vitamin B9 (folate): 7 micrograms (mcg)
Vitamin B12: 0 (There is no vitamin B12 in blueberries.)
Choline: 5.1 milligrams (mg)
Vitamin C: 2.5 milligrams
Vitamin D: 0
Vitamin E: 0.48 milligrams (mg)
Vitamin K: 16.4 micrograms (mcg) in the form phylloquinone
Minerals in 100 grams of frozen blueberries:
Calcium: 8 milligrams (mg)
Copper: 33 micrograms (mg)
Iron: 0.18 milligrams (mg)
Magnesium: 5 milligrams
Manganese: 0.147 milligrams
Phosphorus: 11 milligrams
Potassium: 54 milligrams
Selenium: 0.1 micrograms (mcg)
Sodium: 1 milligram (mg)
Zinc: 0.07 milligrams
Nutrition facts from USDA.gov.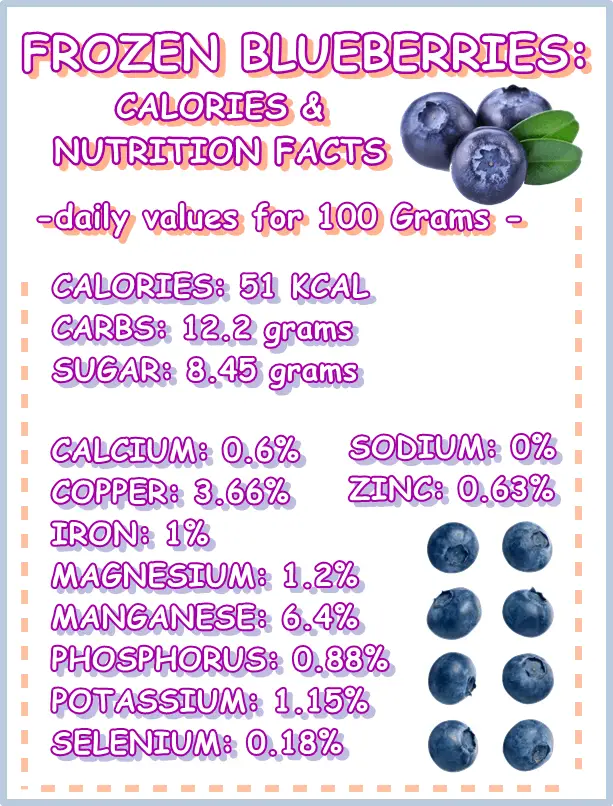 Frozen Blueberries: Daily Values

Energetic value: just 2.55% of the daily calorie intake for the average adult
Carbohydrates: under 4.45% of daily requirements for an adult person
Dietary fiber: 9.65% of daily requirements
Protein: less than 0.85% of daily requirements
Fat: 0.82% of daily requirements
Sugar: Frozen blueberries are almost 8.5% sugar.
Water content: Frozen blueberries are over 86% water.
Also see what is the nutrition of fresh blueberries for 100 grams, with calories and daily values of essential vitamins, minerals and more nutrition facts.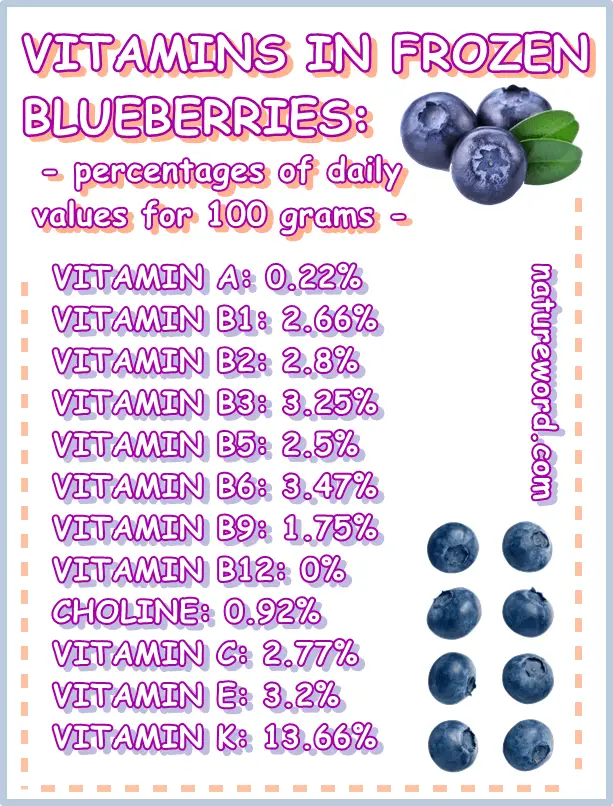 Vitamins in Frozen Blueberries: Daily Values for 100 grams

Vitamin A: 0.22% of daily values of vitamin A for the average adult person
Vitamin B1: 2.66%
Vitamin B2: 2.8%
Vitamin B3: 3.25%
Vitamin B5: 2.5%
Vitamin B6: 3.47%
Vitamin B9: 1.75%
Vitamin B12: 0%
Choline: 0.92%
Vitamin C: 2.77%
Vitamin D: 0%
Vitamin E: 3.2%
Vitamin K: 13.66%
Minerals in Frozen Blueberries: Daily Values for 100 grams
Calcium: 0.6% of daily calcium values for the average adult person
Copper: 3.66%
Iron: 1%
Magnesium: 1.2%
Manganese: 6.4%
Phosphorus: 0.88%
Potassium: 1.15%
Selenium: 0.18%
This post was updated on Monday / October 25th, 2021 at 12:07 AM