The Bartlett pear is a seasonal summer to fall fruit and the number one pear variety according to everyone. It's adored for its juicy, non-grainy flesh, dubbed as buttery, and superlative honey sweet taste with rich fruity flavors. More important, the Bartlett pear is in season right now.
When are pears in season?
Original pear season is summer through fall and, indeed, most pears are in season throughout the summer and fall months which traditionally includes the months of July, August, September, October and November at the latest. Some varieties keep very well which means that they are picked fully matured, but unripe, and stored for 1 to 3 months, essentially extending pear season into winter.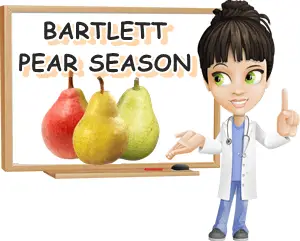 When are Bartlett pears in season?
Bartlett pears are in season summer through fall through winter. What does this mean? Well, the pear variety is naturally in season summer through fall, that is, it ripens naturally and becomes ready to harvest and eat in summer and fall months. But it remains available fall through winter.
Pears, Bartlett included, are what is known as a climacteric fruit. This means they have the ability to ripen after they've been removed from the tree, similar to bananas, avocado, apricots, peaches, nectarines, apples, plums, tomatoes, litchi or lychee and kiwifruit.
In commercial settings the pears are picked when they've reached maturity, but are still unripe, that is, while they're still hard and green. Picking Bartlett pears while still unripe and storing them in conditions that do not encourage rapid ripening is done to extend their shelf life by weeks to months, which also extends their official season.
For example, a Bartlett pear harvested late August or early September can make it to December! So the natural season for a Bartlett pear together with pear availability after harvest time constitutes the official season for the pear variety.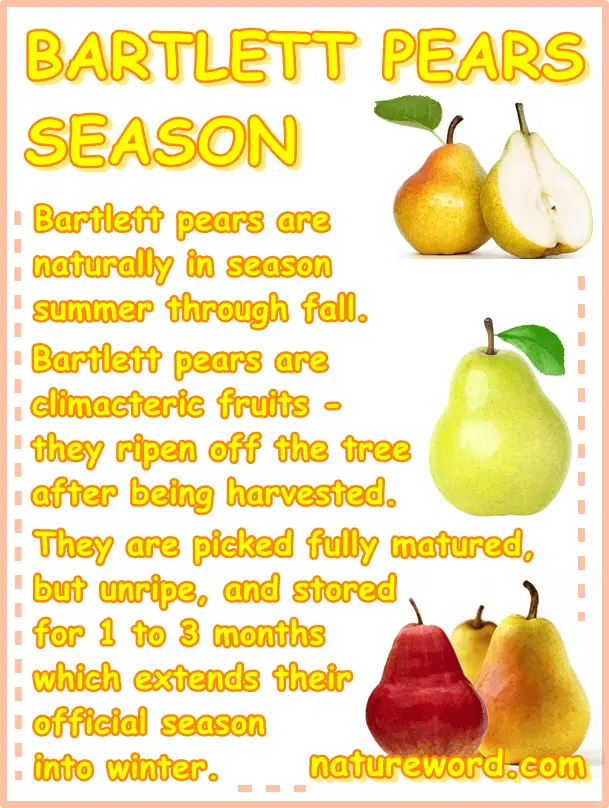 Bartlett pear season by month
In the Northern hemisphere, Bartlett pears are in full season in the months of August and September. More specifically, the pear comes into season mid to late August and stays in season for the most part of September.
However, Bartlett pears are available until December as they are picked unripe and stored in such a way as to delay ripening. In some regions, the Bartlett is ripe as early as mid-July, but that will mean its season will also end sooner in said region, usually by mid to late August.
In the Southern hemisphere, Bartlett pears are in season in the months of February and March, but available for 2-3 more months. That means the Bartlett remains available in the months of April and June and up until July at the latest, depending on the region of cultivation. Similarly, the pears are picked matured, but unripe, and kept in well controlled conditions that delay the ripening of the fruit.
Green and Yellow Bartlett vs Red Bartlett season
Is there a difference in seasonality between Green, Yellow and Red Bartlett? No, Bartlett pears all have the same season. There are two major varieties of Bartlett pear: Yellow and Red. The Yellow Bartlett is the original Bartlett pear – the pears turn a golden yellow color when ripe, usually also with an orangey-red tinge on the side exposed directly to sunlight.
The Red Bartlett is the more novel variety – the pears go from green when unripe to a darker red, somewhat maroon color and finally a brighter deep red when they reach optimal ripening. There is no such thing as a Green Bartlett, although the name may be used to refer to unripe Bartlett pears of both the yellow and red variety.
How long does Bartlett pear season last?
Bartlett pear season covers a good chunk of the year, but the pears are not in season quite all year round. The season for Bartlett pears starts about mid July at the earliest in the Northern hemisphere and peaks August, ending mid to late September as the last fruits are harvested off the trees and sent out. However, because they store well, the fruits can last up until December.
Then comes a pause in the availability of the Bartlett before the second season of the year starts in mid to late February in the Southern hemisphere. This season peaks in March and usually ends late March or beginning of April at the latest. Depending on how well they store, the pears may continue to be available May through June and up until July at the latest.
Also see the nutrition of one small Bartlett pear with daily values of vitamins and minerals.
Also see the nutrition of one medium Bartlett pear with daily values of vitamins and minerals.
Also see the nutrition of one large Bartlett pear with daily values of vitamins and minerals.
This post was updated on Sunday / October 24th, 2021 at 1:59 AM